Tile carpet is an indoor paving material that has been popular on the international market. It has the characteristics of convenient construction, easy cleaning, convenient partial replacement and storage, and transportation, and it is wear-resistant, resistant to pollution, dust-proof, anti-static, flame-retardant, etc. It is suitable for the laying of large-scale public places such as office buildings, airports and hospitals. At present, the domestic market is receiving more and more extensive attention and welcome. Although tile carpets are relatively easy to lay, please refer to the following for the best laying results.
Office tile carpet installation method:
I. Laying tools:
Utility knife, scissors, ruler, square, tape measure, cutting pad, ink fountain, hard shank blade, repair hot air gun, etc.
Second, laying conditions and methods:
1. The laying of the ground requires a higher level of flatness. Because the thickness and squareness of tile carpets are quite accurate, if they are laid on uneven ground, seam marks will inevitably appear.
2. Choose a good starting point: According to the length and width of the room and the laying scheme, after calculation, the last piece of carpet that is tiled to the surrounding walls is guaranteed to have a certain width (20cm--50cm). Points are generally not near any wall edge. From this starting point, use ink fountains to play two long crossovers. The intersections must be guaranteed at right angles. Then lay on all sides at this point.
3. Pay attention to directionality: Each carpet has printed arrows on the back, reflecting the same direction of tufting on the carpet surface. Be careful to keep the direction along the arrow when laying, because even the same batch of carpets with the same color number Only the laying direction is exactly the same, will not produce visual color difference. Therefore, the patching of the patch carpets in the same direction can achieve the visual effect of the general roll-up blankets. For special effects or according to certain carpet pattern features (such as regular stripe carpet surface), vertical laying of blocks and blocks can also be used.
4. The block is tight. If the ground is flat and the four corners of the paving point are at one point, any four blocks that continue the rear paving should intersect at one point. Otherwise, it is not a problem with the size or straightness of the block carpet that the laying is not tight, there will inevitably be joint problems, and it should be reworked.
5. Profiling and cutting: Finally, appropriate cutting is performed according to the shapes of the wall edge and the pillar to achieve the effect of tight seams.
6. Open side fixing: When laying on the door or other open side, it is better to buy a special carpet edge beading head.
Three. Trimming:
1. After the carpet is laid, the overall effect must be checked. A suede patchwork can be found for proper adjustment, such as the exchange between blocks and blocks.
2. During the laying process of carpet tiles, due to various reasons, there are occasional fluffing phenomena at the splicing area of ​​the blankets. At this time, scissors can be used to trim or use a hot air gun to repair hair, but attention should be paid to the gestures of trimming and the temperature control of hot air so as to avoid Damaged carpet.
Solid steel and machined reels are designed for applications that requires a strong reel built to high performance or heavy duty applications. Wire drawing and high strength reels are available in various constructions each designed to applications and process requirements.
FG - Forged Steel Reel
Manufactured from high density forged steel
Machined to tight tolerances
Designed for up to 15,000 RPM
Dynamically balanced

SSM – Solid Steel Machined Steel Reel

Solid steel construction
Machined on all surfaces
Highly concentric construction
Drum support members available
Any custom and standard size

SSU - solid steel reels

Solid steel
Customizable reel to any dimensions
Replacement arbor bushings
Un-machined reels
Partially machined reels

DF - Double flange Steel Reel

Heavy duty process reel
2 flange skins for minimal flange deflection
Curly edge for increased strength
Drum reinforcements for high tension spooling
Machined winding surfaces for high speed spooling
Dynamically balanced

DR – Double flange Reinforced Steel Reel

Heavy duty process reel
2 flange skins with lateral flange reinforcements
Drum reinforcements for high tension applications
flange diameters 610 – 1500 mm (24" – 60")
Looking for ideal Wire drawing reels Manufacturer & supplier ? We has a wide selection at great prices to help you get creative. All the solid steel reels are quality guaranteed. We are China Origin Factory of Machined Reels. If you have any question, please feel free to contact us.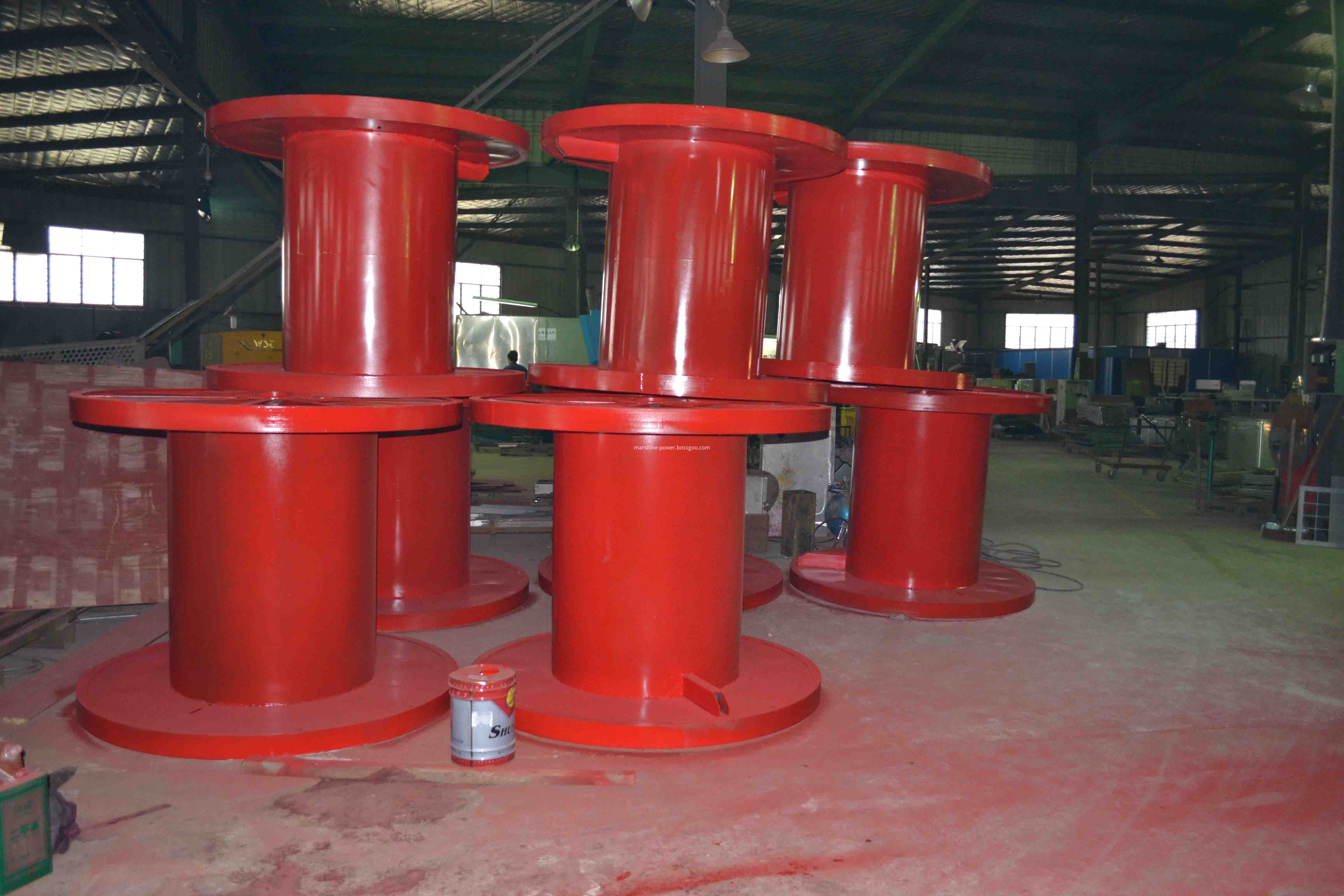 Skeleton Cable Reel, Steel Cable Reel, Wire Spool, Steel Cable Drum, Cable Spool, Metal Spool
NINGBO MARSHINE POWER TECHNOLOGY CO., LTD. , https://www.marshine-power.com