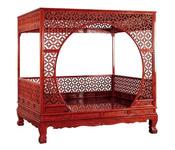 On June 12th, the new CITES Convention will be formally implemented, in which seven species of redwood species will be included in the control list. In recent days, Vietnam's redwood exports have raised taxes by another 200%. Under multiple pressures, rosewood raw material prices are imperative. People in the industry believe that the price increase of mahogany raw materials will not be directly reflected in the terminal retail market in the short term, but the price of mahogany furniture will surely increase in the future. In recent years, the import volume of mahogany raw materials has increased year by year, but subject to the environmental factors, the performance of its terminal retail market is tepid. In the fierce market competition, many small family-owned mahogany enterprises face the fate of being eliminated by the market due to lack of marketing channels and brand support. The top 10 companies, which account for less than 1% of the entire market, are facing a new round of reshuffle.
The rising pressure of mahogany raw materials has been huge. Recently, the "Legal Evening News" reported that Vietnamese mahogany exports are subject to a 200% tax increase. Taking Dalbergia japonica as an example, the original taxable price was increased from 3,900 U.S. dollars to 15,000 U.S. dollars. The original second-line mahogany such as rosewood was originally 500 US dollars increased to 1,500 US dollars.
In addition to the trade barriers of timber exporting countries, raw mahogany raw materials will also be subject to international conventions. In March this year, the 16th Conference of the Parties to the Convention on International Trade in Endangered Species of Wild Fauna and Flora (CITES Convention) was held in Bangkok, Thailand. At the meeting, the CITES Convention included seven of the 33 species of redwood species listed in the National Standard GB18107-2000 "Redwood" of China as controlled species.
Relevant information shows that there have been 5 species of redwood species that have been listed in the CITES Convention. In addition to the original sandalwood rosewood in Appendix II, the meeting also added Dalbergia japonica and D. eryngii redwood species, which were previously listed in Appendix III as Dalbergia, Belize and Dalbergia. Lushi rosea rose to Appendix II. Brazilian Dalbergia is still listed in Appendix I. The Convention stipulates that species in Appendix I prohibits commercial international trade. Species in Appendix II must have import and export licenses or re-export certificates before they can conduct international trade.
Ch Chang, Vice President of the China Timber and Wood Products Distribution Association and Secretary General of the China Redwood Committee, told the reporter of the "Daily Economic News" that seven species of the Convention were included in the Dalbergia japonica, Dalbergia japonica, Belize Dalbergia and Lushi Dalbergia is currently used in large quantities in the Redwood industry. However, at present, the market for redwood products corresponding to these redwood species is relatively stable.
Che Che analysts, on the one hand, the market is in a wait-and-see attitude; on the other hand. Dealers also have some stocks, which will help to stabilize the market price. In addition, the redwood finished product market has a certain lag in price relative to mahogany raw materials. He believes that starting from the second half of this year, with the fall of mahogany furniture sales in the peak season and the implementation of the CITES Convention, some finished red-wood products will increase prices.
Ge Haizhen, head of Gejia Redwood Zhejiang District, said that although tariffs rose sharply, middlemen would also consider such factors when selling raw materials to mahogany manufacturers, and make appropriate adjustments to prices, so up to 10% of retail terminals are -20% increase.
Redwood enterprises face reshuffling In 2012, China's customs timber import data showed that in 2012 China's cumulative import of redwood reached 86.28 million cubic meters, an increase of 30.37%, an increase of 200,000 cubic meters; of which redwood logs imported 757,200 cubic meters, an increase over the same period last year 34%, an increase of nearly 200,000 cubic meters; sawwood imports 74,400 cubic meters, an increase of 9.1%. Although Hongmu's imports rose sharply, Ge Haizhen pointed out that due to the environmental factors, sales of the entire mahogany furniture were not very good.
Another set of data shows that the total amount of mahogany imports in 2012 reached 5.703 billion yuan***, an increase of 10.85%. In the unit price of imports, the unit price of imported mahogany logs fell by 17.71% compared with 2011, while the unit price of sawn timber rose by 5.32%. However, Che Cheong said that the price of mahogany furniture in recent years is still rising steadily.
Ge Haizhen analyzed that although the price of raw materials is not stable, the increase in labor costs in recent years has pushed up the price of mahogany furniture to a large extent. He also pointed out that the mahogany end market is currently in a situation where there is more glutinous rice, and mahogany enterprises are facing a new round of reshuffling. Many small family-owned mahogany companies will be phased out due to lack of marketing channels and brand support. The recent rise in raw material prices will accelerate the progress of the reshuffle, because large companies and SMEs will have a large gap in the purchase price of raw materials.
Che Che said that the industry has indeed reached an industrial restructuring and upgrading time. At present, the top 10 companies in the redwood industry have less than 1% of the total market, and the market is immature. At the same time, he also worked for numerous small and medium-sized mahogany enterprises, pointing out that in the future, parts can be produced for large mahogany companies, or transformed into mahogany service industries.
Guanidine Nitrate,Hot Sale Guanidine Nitrate,Superfine Guanidine Nitrate,Ultra Micronized Guanidine Nitrate
Beilite Chemical Co., Ltd. , http://www.dicyandiamideblt.com